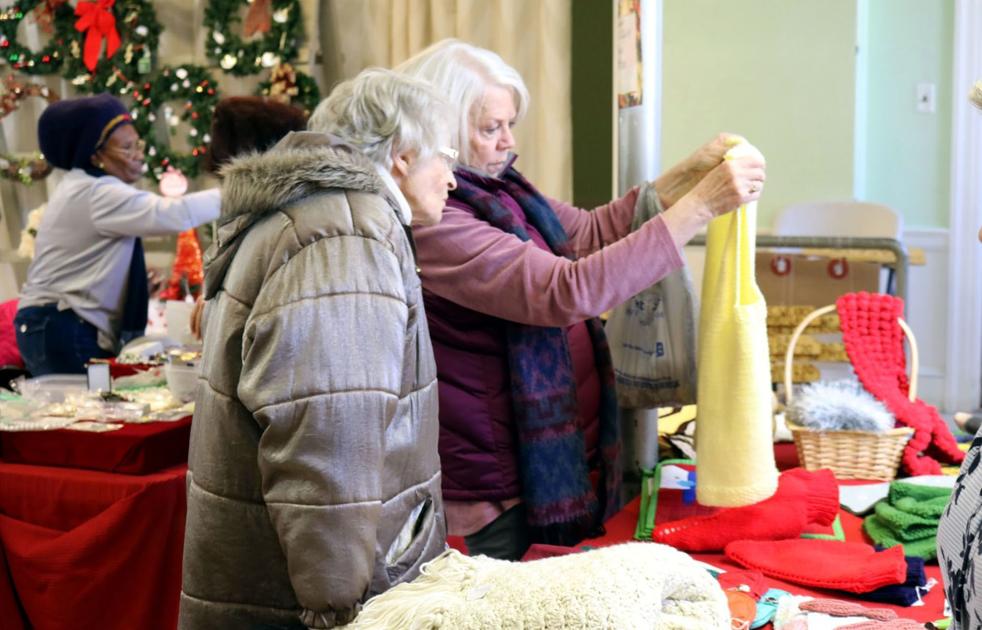 Holiday Church Parties | Stories
Here is the annual list of holiday fairs organized by churches and non-profit organizations in our area.
September
Saturday September 25 from 8 a.m. to 2 p.m.
United Methodist Church, 16, rue East Bacon, Plainville
Fall garage sale. Tons of Halloween costumes for all ages. Donations sought. Bring them to the room, on the lower level of the parking lot, Monday to Friday in September, 6 p.m. to 8 p.m. only. Volunteers will be available to help you unload your car. Items to donate include seasonal decorations, books, DVDs, household items such as kitchenware, bakeware, tableware, lamps, desk accessories, toys, games, puzzles , crafts, costume jewelry. No televisions, computers, printers, large furniture, strollers, car seats, clothes or shoes. A snack bar will be open for sale; fresh produce, coffee.
Saturday September 25 from 10 a.m. to 2 p.m.
North Attleboro First UCC Congregational Church (Old Town Church), 675 Old Post Road, North Attleboro
Autumn craft fair in the open air and sale of pastries. Fall decorations, Christmas items, kitchen essentials and accessories. All profits are donated to the general fund of the church for its missions and maintenance. The rainy date is October 2.
October
Friday, October 15, 3 p.m. to 7 p.m. Saturday October 16 from 9 a.m. to 3 p.m.
St. Martha's, 227, rue Sud, Plainville
Holiday fair. Local crafts, basket and cash raffles, prize-per-day raffle calendar, grandmother's granary, baked goods and take-out. State COVID protocols apply.
November
Friday November 5, 4 pm-8pm; Saturday November 6 from 9 a.m. to 3 p.m.
Rehoboth Congregatioal Church, 139 Bay State Road, Rehoboth
Annual bazaar, with turkey supper on Friday evening. Take-out dinner available at drive-thru between 3:00 p.m. and 4:00 p.m. Traditional seated dinner at 5:30 p.m., reservation required, all meals must be prepaid either through the bazaar website (rccbazaar.org) or by sending a check to the church office. Lunch on Saturday from 11:30 am to 2:00 pm No reservation required. Shop for fall and Christmas gifts at a wide variety of stores including: Bake Shoppe, Cookie Walk, Woodworkers Shop, Unique Craft Shop, Country Store, Mrs. Claus's closet, raffle of decorative Christmas trees. Also, silent auction. Get updates at rehobothcongregational.org/bazaar. Credit cards accepted.
Friday November 5 from 12 p.m. to 7 p.m.
United Methodist Church, 16, rue East Bacon, Plainville
Annual fair of the country. Antiques and collectibles, hand knitwear and afghans, jewelry, baked goods. Snack bar with clam cakes and chowder. Take home bread, cookies, brownies and other baked goods, homemade fudge. Silent auction. Gift baskets and gift certificates from local businesses. Auctions taken during fair hours.
Saturday November 6 from 9 a.m. to 1 p.m.
Evangelical Covenant Church, 841 North Main St., Attleboro
Bit O 'Sweden Fall Fair, Swedish breads, cookies and baked goods, takeout treats, Swedish imports, seasonal crafts, knitted and sewn items, themed gift baskets, jewelry and more. For any questions, contact the church office at 508-226-6221 or www.attleborocovenant.org
Saturday November 6 from 10 a.m. to 4 p.m.
Sainte-Marie de Foxboro Church, 83 Central Street, Foxboro
Annual holiday fair. Handcrafted items with Boston sports teams, baby gifts, kitchenware and holiday decorations. "Just for Kids" games and gifts, giant raffles, themed baskets, local sweets, jewelry, religious objects and silent auction. Café open for lunch and snacks. Bring a camera for free photos in a photo booth and a special selfie with Santa at 2 p.m.
Saturday November 6 from 9 a.m. to 2 p.m.
Bethany Congregational Church, 3 Rockhill Street, Foxboro.
Frequently Asked Harvest. Crafts, clearance sale (including jewelry and toys), raffle baskets, children's activities, lunch, more. Activities will be indoors and outdoors with COVID precautions. More info: 508-543-5678.
Friday November 12 from 10 a.m. to 6 p.m. Saturday, November 13, 9 a.m. at 16 o'clock
Our Lady Queen of the Martyrs, 385 Central Ave., Seekonk
Holiday fair. Food, raffles, baskets.
Friday, November 12, 5 p.m. to 8 p.m. Saturday November 13 from 9 a.m. to 2 p.m.
Trinitarian Congregational Church, 2 Pine Street, Norton
Annual holiday fair. Spaghetti dinner on Friday evening from 5 p.m. to 7 p.m., with house sauce, pasta, salad, antipasti, garlic bread, dessert and beverages. Highlights of the fair include homemade take-out meals, baked goods, hand-knitted crafts and items, hand-painted holiday decor, a flea market, a cookie walk and the very popular pancake breakfast on Saturday mornings. Fun activities for families all day Saturday and Santa Claus. Festive basket raffle and high-end items, craft quilt raffle. Pre-orders will open on October 26 at www.tccnorton.org/fair. COVID regulations and restrictions will be carefully monitored and followed. Visit www.tccnorton.org for updates. More info: 508-285-4710 or [email protected] All proceeds directly support the mission and programs of the church.
Friday, November 12 from 11 a.m. to 7 p.m. Saturday November 13 from 9 a.m. to 3 p.m.
Murray Unitarian Universalist Church, 505 North Main St., Attleboro
Party fair, toys, books, second-hand furniture and treasures from Granma's attic, grandfather's garage and almost antiques. Handcrafted gifts including artwork, knitted and sewn items, paper crafts, and holiday decorations. Biscuits by the pound, pies, world fair trade products and a huge raffle. Lunch, dinner, snacks and take out will be available. Locally made products include jewelry, soap, candles, newspapers, handbags, wood crafts, and cosmetics. More info: www.murrayuuchurch.org. Murray Thrift Shop will be open during the fair.
Friday November 12, 4:30 p.m. to 7:30 p.m. Saturday November 13 from 9 a.m. to 1 p.m.
Centenary United Methodist Church, 15 Sanford St, Attleboro
Christmas around the corner. Dinner on site or to take away served on Friday evening at 5.30 p.m. Thrift store open for holiday bargains. Homemade candy, fudge, cookie walk, holiday gifts, raffles, jewelry, country store, more. Chili on the go and hearty soups, including corn chowder.
Sunday November 14, 11 a.m.
St. Therese of the Child Jesus Church, 18 Baltic St., South Attleboro
Annual raffle. Instead of the annual bazaar, there will be raffles. Grand Prize Draw – $ 1,000, $ 300 Best Buy Gift Card, $ 250 Scratch Tickets (50 / Five Dollar Tickets), Apple Watch Series 3 ($ 200.00 + Value), Gift Card Stop and Shop $ 100 and pot of gold 50/50. In addition, a limited number of "Père Lévesque" meat pies upon purchase. Prize draw in the basement of the church after the 11 a.m. mass with coffee and donuts served. For tickets and instructions for placing your order, go to www.sainttheresaattleboro.org/ or the Facebook page at www.facebook.com/StTheresaOfTheChildJesusChurch/ starting October 1.
Friday, November 19, 4 p.m. to 8 p.m. Saturday November 20 from 9 a.m. to 2 p.m.
Trinity Episcopal Church, 47 East Street, Wrentham
Annual Christmas fair. Sale of white elephants, library, baked goods, wreaths and handmade Christmas decorations. The cafe will serve Friday evening dinner as well as Saturday lunch with homemade frozen lasagna to take home. Large raffle, social penny with gift baskets and gift certificates to restaurants and shops in the area.
Saturday November 20 from 9 a.m. to 2 p.m.
Wrentham Original Congregational Church
Christmas forest fair. The tables will feature local craft vendors, plants, gifts, books, jewelry, baked goods, crafts and sewing, Christmas decorations and more. Attic treasures filled with slightly used items. Silent auction of gift certificates, themed baskets and other items. Brunch all day. Children's area with games and crafts.
Saturday November 20 from 9 a.m. to 2 p.m.
Mansfield Congregational Church, 17 West Street, Mansfield
Frequently Asked Snowflakes. Grandma's Attic, Pappy's Garage, Toyland, Jewelry / Bags, Book Corner, New For You, Craft Room, Fairtrade SERV Table, Baked Goods, Candy, Cookie Walk, Dozens of Raffle Baskets .
Sunday November 21 from 10 a.m. to 3 p.m.
North Attleborough Historical Society, 362 North Washington St., North Attleboro
Christmas fair and open house. Knitted and handmade items, jewelry, books, DVDs, Christmas decorations, baked goods and raffle items for sale at Little Red Schoolhouse. Woodcock Garrison House decorated for the harvest by Angle Tree Garden Club. Suggested donation of $ 5 / adult and $ 3 / child.
December
Saturday December 4 from 9 a.m. to 3 p.m.
First Baptist Church North Attleboro, 75 Park St., North Attleboro
Christmas in the town (community hall). Silent auction / drawing items including special baskets, gift certificates, gift cards, etc. Special design for a handmade quilt. Bakery, biscuit corner, knits, novelties, antiques and collectibles, handmade crafts including Christmas wreaths, jewelry treasures and bargains in Grandpa's attic.