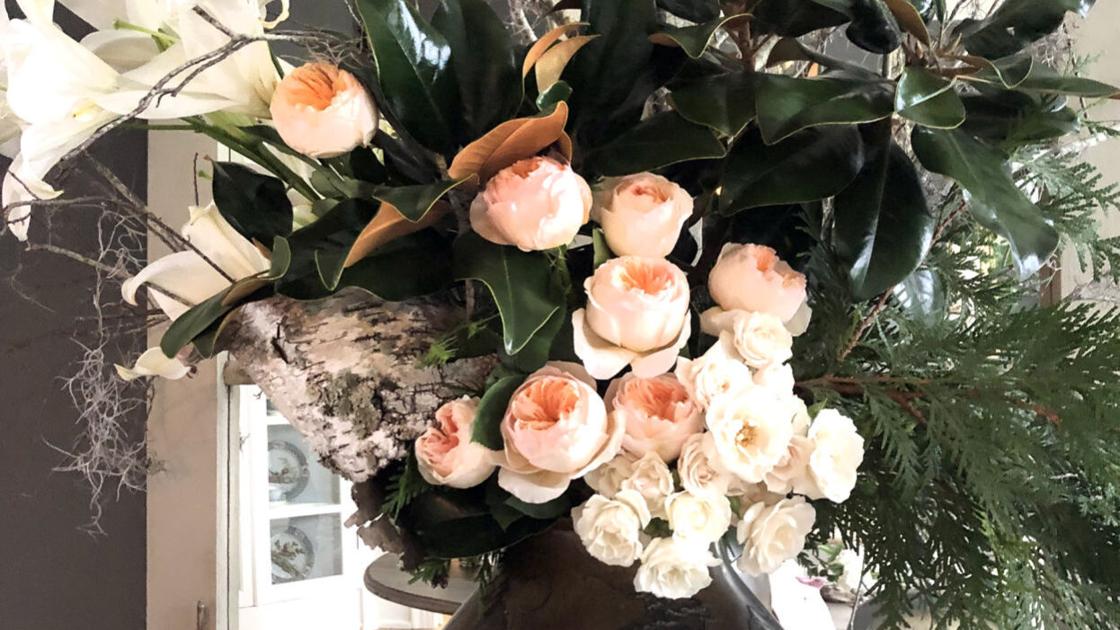 Holiday lunch scheduled for November 9 |
Lovers of flower arrangements, rejoice.
On Tuesday, November 9, the Garden of Eden Club will host its annual Holiday 2021 luncheon and floral design fundraiser.
The fundraiser is the only annual of its kind organized by the club and is meant to be a learning event open to the public.
This year's theme is "A Walk in the Woods", the name coined to describe the style of designer, Missie Harrell.
Harrell, a floral designer from Edenton with her own style and design philosophy, will be presenting various flower demonstrations during the lunch.
According to a club statement, Harrell incorporates "the beauty of fresh flowers with his finds picked from the woods and walks around town." Some of his arrangements include lichen covered branches, driftwood, pods and cones.
These notable elements give the unique designs both structure and originality, according to the club.
The event will feature greenery harvested locally by Harrell as well as purchased flowers.
Ms. Harrell hopes to convey the design elements that come with all art forms, including line, texture, shape, and color. She believes that another important part of making beautiful arrangements is looking for interesting containers that work well in the space where the flowers will be displayed, "the club statement said.
Inspiration came to Harrell when she was just a young girl. She arranged nature as she saw fit using picturesque elements from the outdoors to create charming and beautiful designs.
"My first contact with my love of picking and organizing floral design came from my childhood on a farm in Bertie County with all of the nature that surrounds me," said Harrell. "And a grandmother whose garden intrigued me and who allowed me to 'decorate' whatever I wanted in her house. "
At Christmas, Harrell was able to decorate the manger in his grandmother's living room with "hay," which was actually weeds she had picked just down the road. The local flora and greenery played a big role in the early development of his unique floral creations.
"I put Smilax vine in all the spaces I could reach," said Harrell.
The Smilax vine, also known as the greenbrier or catbrier, is native to the region.
Harrell's grandmother also had a significant influence both in her spiritual life and in her floral design.
"Sunday morning was often spent in Sunday school in her home and many Sunday afternoons attending worship at a small church nearby where she always made sure there were simple flower arrangements. and greenery on the altar, "said Harrell. "I don't remember seeing flowers from a real florist, just accessible beauty that God provided on our doorstep."
To this day, those same inspirations gathered from her grandmother still ring true.
"This is always what I try to do when creating flower arrangements now. I might have to move away from my back door a bit to look for food, "she said.
Harrell, while practicing the art of floral design for decades, sees her arrangements more as a hobby than a career. However, this still does not put any obstacle in his worship of art.
"I've always loved doing it," she said. "I see floral design as another way to create art that will be appreciated and that talks about the amazing gifts God gives us in nature. I think celebrating what God creates is my favorite thing about creating flower arrangements.
Lunch guests will learn some of Harrell's techniques through hands-on demonstrations as well as the art of transforming natural materials into creative and enduring arrangements.
"With the Thanksgiving and Christmas season fast approaching, guests will be ready to create their own festive designs by combining their forage finds with some fresh flowers and evergreens," the Garden of Eden Club said in a statement.
After lunch, pop-up shops will feature handmade pottery in the workshop of Frank Miglorie, the potter from Edenton, as well as home decor and accessories from Polka-Dot Palm and more.
The Edenton Garden of Eden Club makes a special contribution to the beauty of the city with the Celebration Garden on the grounds of the Penelope Barker House. The club recently recruited a planter to help club members maintain the garden's presence on the Barker House grounds.
Tickets for lunch and fundraiser are $ 35 which includes lunch and can be purchased at the Barker House or by calling (252) 482-7800 and picking them up via the call at the door of the 'event.
The event will be held at St. Paul's Episcopal Parish Hall at 101 W. Gale St. in Edenton from 10 am to 1 pm.
Thadd White is Group Editor for Bertie Ledger-Advance, Chowan Herald, Perquimans Weekly, The Enterprise & Eastern North Carolina Living. He can be contacted by email at [email protected]