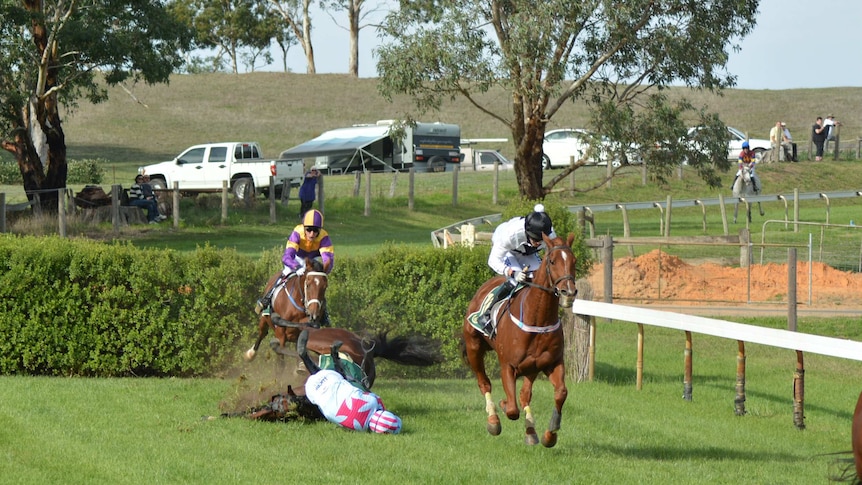 Jumping races will be removed from the South Australian racing calendar from next year
South Australia's horse racing industry has announced that jumping races will not be on the calendar starting next year.
Racing SA said the decision was made due to declining participation levels and declining horse numbers, making the industry unsustainable.
A total of 12 jump races were held in 2020-21 with field sizes dropping to less than five horses per race.
According to data from Racing SA, there are currently less than 10 show jumping horses in South Australia, compared to over 2,400 registered thoroughbreds statewide.
Racing SA CEO Nick Redin said that while jumping racing has been a big part of the thoroughbred industry's participation levels in jumping racing, it has been on the decline for some time.
"While this is undoubtedly sad news for some, we believe it creates very exciting opportunities for the future," he said.
"Thoroughbred racing in South Australia is on a growth path, and this move is in the best interests of the future of our industry."
Racing SA has reported that show jumping horses that cannot advance to flat racing will be transferred to new interstate, eventing or retired owners.
Head coach Richard Jolly said he has moved his business to flat races due to declining participation in jumps.
"I had riders but since we don't have riders here the cost became prohibitive of having to bring in jockeys to train and race," he said.
"The industry has been working hard to see if there is a future for jumping races in South Australia, but it is clear that this is no longer sustainable.
"In contrast, the number of horses involved in flat racing continues to grow in South Africa."