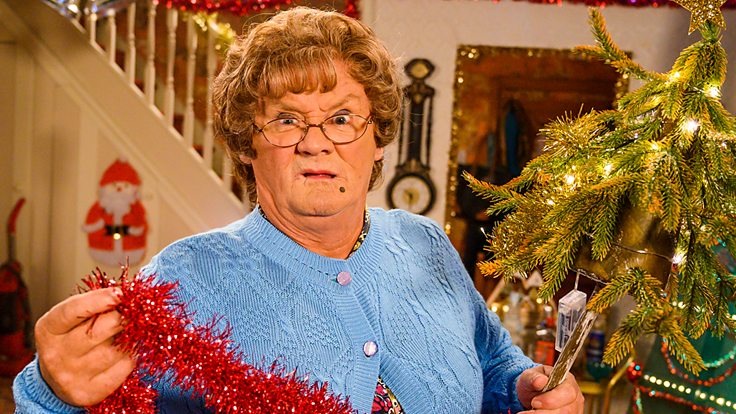 Mrs Brown's Boys Christmas and New Year Special
For fans of Mrs Brown's Boys, there are two visits to Finglas this season. At Christmas, Agnes (Brendan O'Carroll) became a non-singer member of the choir, and Dermot (Paddy Houlihan) and Buster (Danny O'Carroll) threw a fundraiser for a rather unusual cause; while the New Year brings a fresh start to the Brown house, and an unexpected visitor has a unique investment opportunity.
Mammy's mechanical cheerfulness
It's Christmas again in Finglas. Agnes was recruited into the church choir, but she is under Father McBride's strict instructions that there should be no singing or dancing. It's not the only thing that's off limits, a shortage of Christmas trees means Buster has to be even more creative than usual to try to impress Agnes in any way necessary. Meanwhile, Dermot and Buster have hosted this year's festivities at Foleys and are hosting a Murder Mystery party to benefit the alcoholic greyhounds. What could go wrong?
Mummy micky
This New Year is all about reconciliation and new beginnings in the Brown family, but not everyone seems to get the message. Grandfather's brother, Micky, has just been released from prison when he decides to come visit him. Everyone except grandfather is suspicious when he shows up to ask for five thousand euros to invest in a South African gold mine. Winnie, inspired by Cathy's book, is on a daredevil mission to change the course of her life while Mrs. Brown's boys are forced to have a heart to heart.
Mrs Brown's Boys a 2×30 'is a BBC Studios and BocPix production for BBC One and iPlayer. It was commissioned by Charlotte Moore, Head of Content and BBC Comedy. The editor-in-chief of the BBC is Gregor Sharp. The executive producer is Steven Canny and the director is Ben Kellett.
Hi! Thanks for reading to the end. I wish I could give you a price. But BTJ needs your support to keep going – if you want to help keep the site running, please consider make a donation.
Zircon – This is a contributing Drupal theme
Conceived by
WebPal
.